Laure Proulx, owner and manager of The Buddha Bistro, started moving forward on the idea when the stars aligned, and the universe spoke and things just fell into place. Opening in The Om Center, owned and directed by her daughter Jessica, Laure knew that her philosophy on food paired with the philosophies of yoga and wellness would blend together beautifully and create and even more cohesive experience for health and well being.
Laure, coming from a background in medical finance, decided it was time to leave the corporate world and finally pursue one of great passions- healthy cooking.
The philosophy of The Buddha Bistro is simple: clean, whole food, fresh, organic ingredients and great flavors. There is thought behind each ingredient and each item served. From the coffee being organic and fair trade, to seasonal veggies and fruits being local and organic. The vast majority of the ingredients are organic, all are natural and healthy, and each meal is cooked and made to leave you feeling full, happy, healthy and whole. We also serve daily gluten free and vegetarian options: something for everyone!
We care about your health and want to show everyone that healthy, whole food can be delicious and nutritious and colorful and make you feel amazing.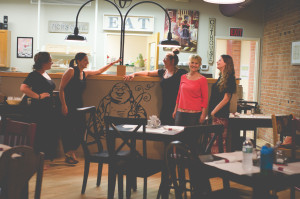 Here's to you and your health!